Complete Business Management and ERP Software
Your solution for profitability and efficiency
Serious Time-Saving with Automation: Embrace a new era of productivity. QuickEasy ERP automates repetitive tasks, banishes errors, and accelerates your workflow.
Smooth Out Complex Operations: QuickEasy ERP streamlines business operation, ensuring that your team's efforts are as effective as possible, for more productivity and profitability.
Gain the Upper Hand with Customer and Business Insights: Be the master of your market. Cutting-edge analytics deliver real-time data, so you see trends, spot opportunities, and chart your course to growth.
Trusted by 1000's of users to improve efficiency
ERP software built to improve profitability and efficiency
Enabling companies to streamline processes, production, people, and profits, and get results faster.
 ERP Software Built to Improve Profitability Efficiency
Enabling companies to streamline processes, production, people, and profits, and get results faster.
Control your entire business in one system
Access your system from anywhere in the world
Grows with you, with minimal disruption
Cost-efficient, Monthly subscriptions
Everything you need in one complete ERP system
Everything you need in one complete ERP system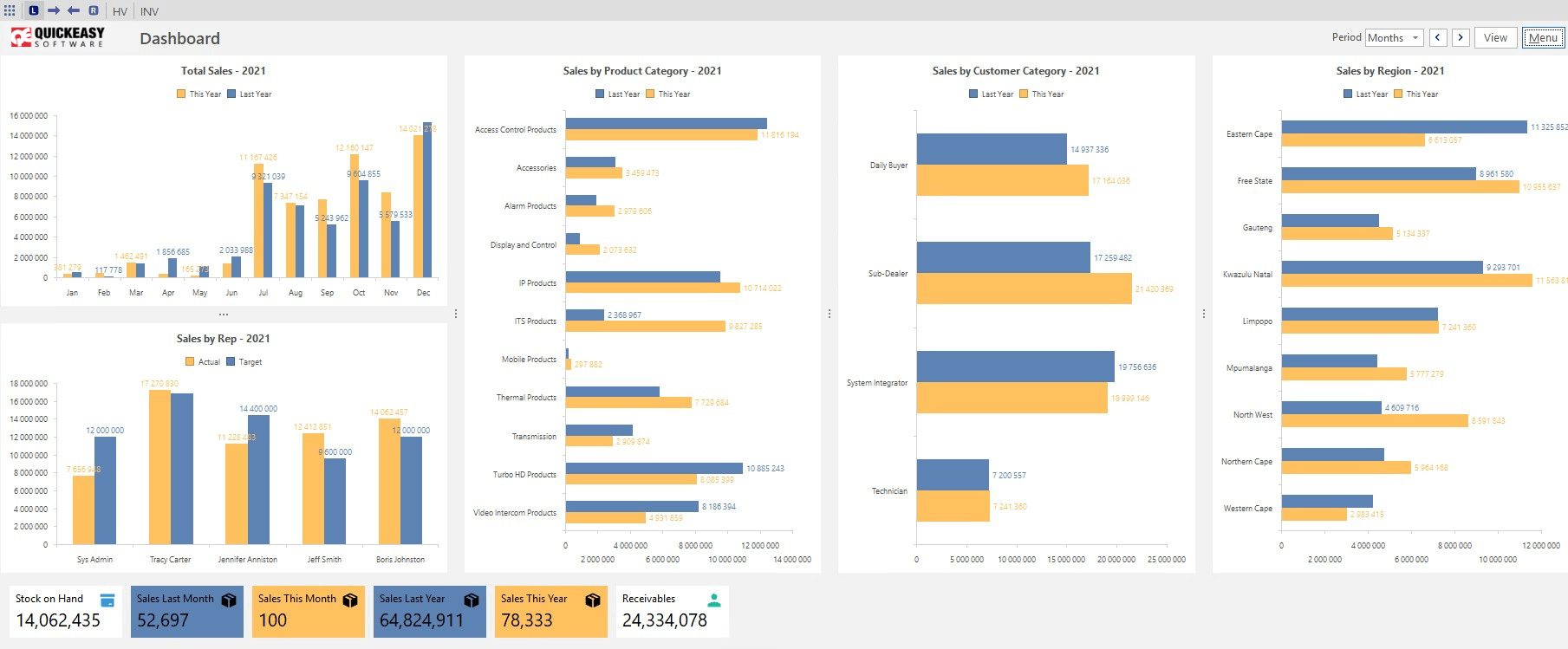 Understand Your Customers Better
Unlimited CRM and CSM
Empower your sales and support teams with customer relationship management, and customer service management tools!
Close Deals Faster
Automated, Accurate Estimating
Get a complete view of products, prices, and capacity.
Reduce Waste and Stock Delays
Robust Stock & Inventory Management
Immediate updates to products, prices, and quantities.
Improve Cost Control & Auditing
Clarity on Purchasing and Procurement
Order from your suppliers with ease, with full purchasing history at your fingertips!
Eliminate Bottlenecks. Improve QC.
Powerful Production Management
Live production dashboards so you always know.
Get Financial Clarity
Full-house Accounting Included
IFRS and GAAP compliant accounting capabilities so your admin team can do more, faster.
Get Market Mastery
Intelligent Analytics & Insights. Real-Time Dashboards.
Accurate, fast reports in real-time at the click of a button!
Choose QuickEasy ERP for Productivity and Profitability
Unify Operations, Unleash Collaboration
No more silos. No more fragmentation. QuickEasy ERP unites every aspect of your business into a single, fluid, intuitive platform. From real-time inventory management to client relationship handling, every tool you need is at your fingertips, empowering you to master your operations and realise your business vision.
Process Optimisation, Greater Market Share
Every industry has its challenges. But you're not one to back down. QuickEasy ERP is crafted with deep understanding of the unique obstacles South African manufacturing, printing, packaging, signage, and engineering companies face. It's your secret weapon in the battle for business supremacy, guiding you to overcome hurdles and seize opportunities.
It's time for results.
See what QuickEasy BOS ERP can do for your business.
Complete the form below to schedule your FREE, no-obligation demo and let us show you how QuickEasy ERP can supercharge your operations and skyrocket your productivity.
Schedule a free consultation today!