Business Operating System (BOS)
BOS is ERP for medium-sized businesses.
Business Operating System (BOS) is the best way to integrate all the cycles within a business.
What are business cycles?
Every business – no matter what product or service they are in – goes through these business cycles:
Sales
Operations
Accounts
Reporting
These four cycles define the processes that take place within the business in order for it to produce a product or service in exchange for profit.
We will unpack these cycles on this page, and how QuickEasy has been designed to serve these cycles.
A word on ERP, or BOS
Enterprise Resource Planning software (ERP) is what we call Business Operating System, or BOS.
BOS integrates every business cycle into one system. This ensures that every cycle is in communication with the other. This means instant analysis and reports for the decision-makers and does away with a heavy admin department.
There are many more reasons why BOS is vital for all SME's. Click here for more.
Sales Cycle.
No matter how sleek and sophisticated your estimating, production and accounting systems are, if your MIS or ERP system doesn't have a strong sales focus, it is ineffective.
QuickEasy BOS incorporates all the functionality required to perpetuate and manage your Sales processes.
Estimating and Quoting
Get the competitive advantage with fast, accurate quotations. If you quote too low, you lose money, if you quote too high, you don't get the job. So how do you know what to quote?
Estimating, especially for complex manufactured jobs, is the core on which QuickEasy was built. It's what we do best!
Powerful functionality enables you to set up costing models in a quick and easy way.
Once the model has been setup you simply capture the specification of the job and QuickEasy instantly and automatically produces:

A list of all the materials required to manufacture the job
An ordered list of services
A neatly generated Quote Description
A technical specification for the Workticket

Increase revenue with accurate pricing.
Always cover costs (even hidden ones) so your bottom line is improved.
Job history provides more insight on previous jobs so you can quote even more accurately on time, expenses and materials.
Save on expenses estimator salaries as the system does all the think-work for you.
Allocate your team resources efficiently.
Leads and sales conversions
Prospective customers can be reached in various ways: cold calling, e-mailing, events, etc. If a prospect is not ready to order now, maintaining contact and keeping them aware of your products means they may be ready to become a customer in the future.
Sending out a quote is not the final stage of prospecting. Keep hot leads, hot with ease!
Stay in the loop: contact records are linked to customers.
Easily-accessible information on the database that everyone can use, even when the sales staff leave.
Follow-up reminders mean you will never miss another follow-up again.
Follow up on quotations is equally important:
Perhaps you misinterpreted the specification.
Maybe you came in too high on price initially, and want the option to offer a more competitive price.
The customer might only be ready to place an order next month.
Without following up on quotes, you lose the opportunity to convert leads into sales.
Easily create reminders that are linked to your quotations.
Chart your sales pipeline through your customised sales statusses.
No more micro-managing needed! Your sales reps are prompted to follow up on a quote until the quote is accepted or rejected.
Wondering why your quotes are being rejected? Reasons for losing quotes are linked to rejected quotations to guide management on how to become more competitive.
CRM (Customer Relationship Management)
It all starts with the customer. It's vital for the health of your sales cycle to maintain updated customer information and your contact history.
Maintain unlimited customer and contact records.
Use only the information that your company sees as vital for healthy CRM with customised user fields.
Find customer information easily.
Easy reporting with grouping and categories
Marketing
Marketing creates favourable awareness of your products and services to prospective customers. Do it effectively and your sales pipeline will always be full.
Now you can send personalised bulk e-mails to clients and prospects in your sales cycle.
Use built-in workflows to manage your marketing campaigns.
Increase revenue by keeping your customers aware of your offering.
Save on marketing costs by using built-in functionality.
Point of sale
When your company does over-the-counter sales, you need dedicated software that enables staff to quickly capture and process sales.
The touchscreen PoS application can run on any operating system.
Reduce errors: users add items from a lookup list, by scanning barcodes or typing in a custom description.
Take all payment types: Cash, card, EFT, cheque, voucher and more.
Operations Cycle.
This cycle allows you to plan ahead efficiently, eliminating guesswork and keeping you abreast of your costs and figures.
It all starts when an order is placed, and ends when production is complete.
QuickEasy BOS is easily customised to meet the varying operational requirements of companies in all business sectors.
This cycle can also include workflows and transactions that are not part of the daily business cycle, for example Product Development.
QuickEasy BOS covers everything you need to efficiently manage your production, staff and inventory, to consistently meet deadlines and manage your investment.
Accurate cost estimating
Quick and accurate cost estimating is an important requirement for companies that produce custom products or deliver custom services.
The QuickEasy business operating system (BOS) estimate types can be configured for use in Manufacturing, Construction, Functions, Services, Installations, etc.
Once an estimate type has been configured, users only need to input a job specification from which a list of Services and Materials (BoM) will be generated.
A quote letter, cost sheet and a workticket can also be created from the completed quotation.
Multiple items and quantities can be estimated and priced individually on one quotation.
No duplication of information is required. The quotation includes all the information required to create the downstream transactions:

Sales orders,
Work orders,
Purchase orders,
Delivery notes and
Invoices.

Restrict users to the input screen and selling prices.
Enable sales reps to do their own estimating and quoting.
WIP overview
QuickEasy BOS is mostly used by companies with a complex operations cycle, which means the sales order and work in progress functionality is an important part of their management information system.
Downstream transactions are restricted according to how the sales order items are resolved:
An item that is to be issued from stock, can only be copied to a goods issue transaction.
An item that needs to be purchased, can only be copied to a purchase order.
An item that needs to be produced, can only be copied to a work order.
WIP process
When a customer's credit limit is checked, QuickEasy checks outstanding invoices as well as work that is in progress.
Order processing can be blocked if an overdue or overdrawn account is suspended.
Work in progress can be tracked from start to finish using Status changes.
Part deliveries and invoices are easy to manage.
Checks are in place to ensure that every job gets fully delivered and invoiced.
Capture production data
The QuickEasy job tracker provides a touch-screen interface for capturing production data from the factory floor.
The data captured can be extracted in reports to measure the productivity of cost centres and operators.
It also provides the information to ensure that estimated hours stay in line with actual production hours.
Job tracking
The QuickEasy planning board is updated live by the job tracker.
Feature-rich touchscreen interface for quick operator input and visual feedback.
Notes can be added to timekeeping records.
Information like meter readings, spoils qty, qty completed, etc. can be captured.
Material issues can be recorded.
Interactive planning board
Harness the simplicity of a manual production board with the processing power of a computer with BOS's planning board.
It ensures that your jobs are delivered on time while driving down overtime by keeping your production centres loaded.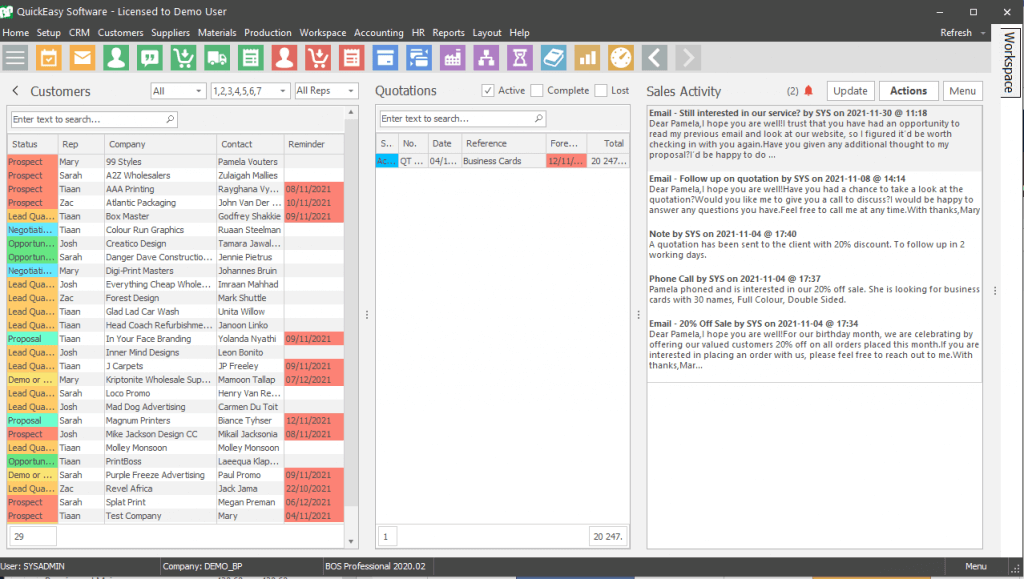 Planning board
Production progress information is readily available to all staff.
Set the latest start date for each production task in order to meet the job deadline.
View the cumulative hours before any task in the queue can start.
Know how many production hours are loaded in each work station.
Easy re-ordering of production tasks using drag-and-drop.
Live updates from the job tracker.
Profitable purchasing
Material and outwork purchases make up the lion's share of a company's turnover – especially when it comes to manufacturing.
A company's profitability is, therefore, significantly influenced by how well you buy.
Multiple supplier prices can be linked to Items to provide price comparisons.
One click on an item summary gives you insight into:

Inventory.
Supplier prices.
Purchasing history.

Jam packed with functionality to track and manage outstanding purchase orders.
Powerful stock and inventory management
With QuickEasy BOS you're able to maintain and manage all the raw materials, components, finished goods and tools in your business.
Inventory is updated automatically as you perform your daily transactions – you always know what is 'on hand' and what is 'available'.
Tracking functionality ensures a product can be traced right back to it's production batch including the raw materials used in the batch.
Image, specification and user-defined fields are available to capture all the Item's information.
Multiple units of measure and conversions between the Units of Measure are supported.
Customer-specific Items can be linked to customers.
Multiple supplier prices can be linked to supplied items.
Multiple production methods can be linked to produced items.
Only items that are kept in stock are flagged as inventory items – Inventory lists are not bloated with non-stock items.
Multiple inventory locations are supported.
Replenishment is driven by 'minimum' and 're-order' quantities. These quantities can in turn be driven by historical or projected demand, economical batch sizes and replenishment lead times – it's up to you.
Transparent and dynamic workflow
When Transactions are copied in QuickEasy, they are automatically linked. So the sales order is linked to a quotation and the work order is linked to a sales order and so on.
In addition, QuickEasy also provides an optional workflow module where users can record all the transactions and communications related to a job, from the initial customer enquiry right up to invoicing.
Workflow
Have total clarity and control over all transactions and customer interactions at all times.
Link transactions, notes, files and images to the workflow.
Find a workflow by searching on any transaction number in the workflow.
Drill-down to any of the linked transactions from within the workflow.
Set follow-up reminders for other users. For instance, the sales rep could set a reminder for the estimator to revise a quotation or for the production manager to produce the order.
Accounting Cycle.
Unlike other ERP's, we don't charge you extra for each module.
With your monthly subscription, you get all of BOS's powerful accounting functionality included.
Automated transactions
While your staff are doing their day-to-day processing, they are also creating the transactions that automatically update your accounting.
For instance, creating a Customer Invoice will automatically update your Sales, Age Analysis, VAT and Income Statement.
Payments and Receipts can be imported directly from your bank account using the QuickEasy BOS banking module.
Receivables and age analysis
QuickEasy Accounting software's customer age analysis and accounts receivable functions include periodic reports that can categorise a customer's accounts that are received, according to how long an invoice has been outstanding.
Accounts will be flagged when they have exceeded their credit limit.
There is functionality to suspend overdrawn accounts directly from the Age Analysis.
It includes a filter to view all active accounts or outstanding accounts only.
The grid view helps filter, group and sort all listed accounts with any outstanding amounts over 90 days and can be sorted from the highest to the lowest amount owing.
It has a date filter that allows you to check the status of any account at any date. This is useful for sending backdated statements.
This function allows you to add remarks and reminders linked to an account.
The drilldown functionality allows you to open the Customer Summary.
You are able to batch e-mail statements in no more than four mouse-clicks.
All your monthly statements are delivered quickly and efficiently.
Ledger
View all of your accounting transactions can be viewed from one interface which is provided by the ledger.
Payables and supplier age analysis
The supplier age analysis or the accounts payable functions are both periodic reports that categorise a company's accounts payable according to the length of time an invoice has been outstanding.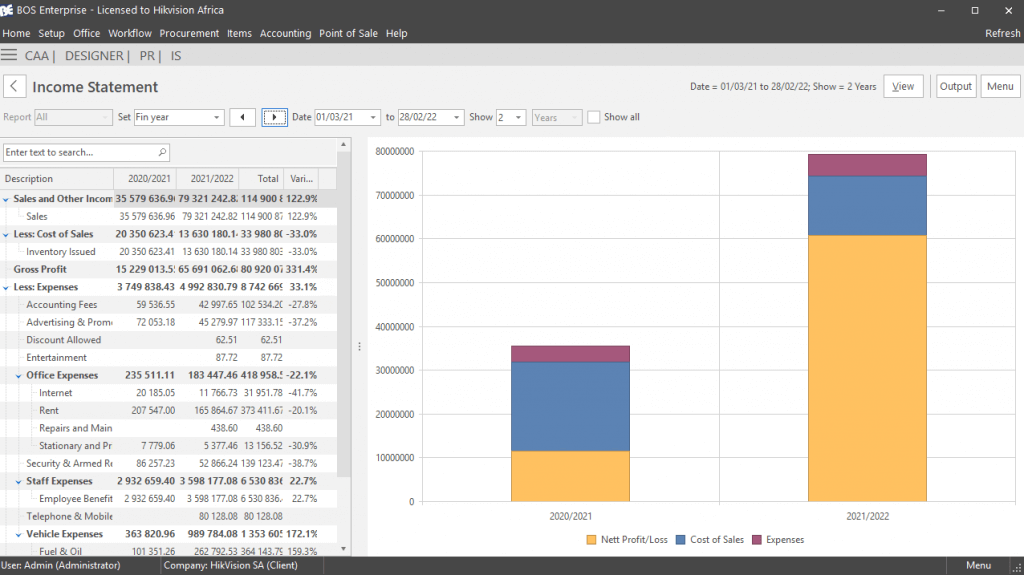 Income statement analysis
The income statement, also known as the profit and loss statement, indicates whether your business is making a profit or a loss and can be viewed in any date period.
Values are displayed for the selected period as well as for the same period as it was a year ago.
View your growth as a percentage in the growth column.
The companion graph provides a visual display of the year-on-year changes in nett profit, cost of sales and expenses.
Users can drill down to the account summary which displays all the transactions for the selected account and period.
Trial balance
The trial balance function provides an overview of all transactions that make up the accounts. This includes income statements as well as balance sheet transactions. If the debit and credit columns balance, then the accounting transactions have been captured correctly.
The QuickEasy BOS trial balance function gives an opening balance for each account as well as the movement of income for the selected period.
This is then totaled in the debit or credit column.
This balance can be viewed for the full financial year or for any group of periods in the financial year.
By default, the trial balance is viewed as a summary of the accounts.
In the detailed view it gives users the option to show all the transactions that make up the trial balance.
The QuickEasy trial balance is interactive and offers far more functionality than a printed report.
Users are also able to group and filter columns on the income statement or on the balance sheet accounts.
Drill-down functionality is provided to view all the transactions that make up an account's movement in the account summary. Users are also able to open any transaction in the ledger from the account summary.
Balance sheet
The balance sheet provides a snapshot of the company's financial position as at a specific date.
Liabilities and equity are grouped so that the total can be compared to assets, which should be equal.
The balance sheet displays the values for the selected date as well as comparative values for the same date one year ago. The difference is indicated as a percentage in the variance column.
The companion graph provides a visual display of the year-on-year changes in assets, liabilities and equity.
Users can drill down to the account summary which displays a list of all the transactions for the year preceding the date selected.
Reporting Cycle.
QuickEasy reports enable you to measure the activity and efficiency of your sales consultants as well as your sales department.
Because QuickEasy BOS is a fully-integrated operating system, you can extract important information in your database in an instant.
It keeps a record of essential information such as sales activity, works in progress, receivables, payables and cash flow in a way that is instantly accessible and easy to understand.
Monitor key areas of your business with ease
QuickEasy Software has a built-in indicator system that allows you to monitor the key areas of your business, such as:
Sales activity vs. target by sales rep
Quotations vs. target
Orders vs. target
Invoiced vs.target
Profit vs. target
Available hours vs. scheduled task hours
Overtime vs. downtime
Cash flow: inflow vs. outflow
Receivables vs. payables
Transaction summaries and pivot tables
Our software contains a built-in summary view for every kind of transaction and can also be viewed in a pivot table format. This allows you to see all tasks due on a particular day, in the next few months, even in the year ahead.
QuickEasy Software contains built-in features that provide you with instant access to information, from staff member information to customer details, supplier data or even a specific product item, our integrated software gives you easy access to the information you need at the click of a button.