CRM vs ERP – What is the difference, and which one do you need?
What is CRM?
Essentially, Customer Relationship Management software (CRM) provides a platform for businesses to track and manage all the ways a customer interacts with them. Not only is CRM software used in call centres and support teams, but they are also used to track sales performance management and sales incentive compensation. Because of how many aspects of the customer journey the CRM software caters to, CRM systems are often sold and deployed as stand-alone solutions.
CRM software typically supports the following sales business processes:
New lead qualification
Sales cycle automation, such as scheduling calls and demos
Sales forecasting and pipeline management
New quote generation and order creation
Order confirmation and fulfillment
Ongoing account management
Renewals and repeat orders
The Benefits of CRM
The main benefit of CRM is that it provides a central storage place for an entire business's customer data. This makes it possible for the business to keep the latest versions of customer records in one place, as well as to track all customer interactions.
Aside from the great data analytics, product forecasting, intuitive product offerings and informed business decisions this data facilitates, it also means that every customer-facing team member within the organisation can provide the personalised customer-contact experience that today's customers have come to expect. This ensures greater customer loyalty, improved revenue, better sales performance and higher customer service levels.
For support teams, the CRM platform is invaluable, ensuring support tickets are tracked, updated, and responded to within SLA. It is also possible to track trends and problem areas that many customers could be facing for a more focused solution. Additionally, CRM can help frontline staff quickly identify if a caller is a high-priority customer or a potentially high-value customer, and route them to the appropriate service tier.
What is ERP?
Enterprise Resource Planning systems (ERP) have evolved out of the material requirements planning software (MRP) of the '80s, which was how manufacturers understood and managed all the resources required to successfully operate a competitive business. Integrated ERP is the more integrated solution of the two.
ERP provides a shared database that unifies every part of a company. Typically, ERP revolves around the business's finances, where transactions automatically update financial records, including the general ledger (GL), accounts payable, accounts receivable, payroll and financial reporting. However, ERP integrates all aspects of the business, such as inventory management, order management, supply chain management, and production management. Modern ERP solutions like BOS ERP also have procurement, distribution and fulfilment capabilities as well as CRM packed in one unified platform.
The Benefits of ERP
One system accessed everywhere
The benefits of an ERP system come from having a single repository of data for the entire business. Some modern ERP systems, like BOS ERP, support multi-location, multi-warehouse, multi-currency functionalities, which allows larger organisations to have a central database from which to operate, no matter how dispersed their operations are. Additionally, if the ERP system is hosted in the cloud, every staff member can access core business tools and data and carry out their daily tasks from any location, without any interruptions or delays.
Always know what's going on
The financials and operational reports are one of the key benefits for business owners and decision-makers. Because an ERP system is a single source of business data, it means employees and leaders can drill down into historical and real-time reports and unpack insights, trends, and forecasts without the need for an IT or finance team to carry out lengthy manual analyses and reporting.
Data-driven decisions
Business owners and leaders can make decisions faster, backed by data that is accurate and automated. This allows for a more sustainable, competitive organisation that can take advantage of new growth opportunities and improved operational efficiencies.
Faster financial close
Another clear benefit of ERP systems is a faster financial close. Finance teams typically take stock of all finances coming into – and leaving – the business. They then manually tabulate their findings using spreadsheets or basic accounting software at the end of each month or quarter, which is known as closing the books. This requires arduous manual work, copious amounts of data entry and reaching out to various departments for financial information. A centralised ERP system automates most of these tasks, radically speeding up monthly close times and giving back useful hours to employees for productive work.
Gain greater control
ERP systems have role-based permissions, security settings, and audit trails which ensure only those with the proper job functions can access sensitive data. This reduces financial risk and streamlines operations.
What is the Difference Between CRM and ERP?
While there are some overlaps between the two systems, the primary differences lie in that CRM is focused on customer data, while ERP is mainly focused on finances and operations. The former is commonly referred to as the front office, and the latter is the back office.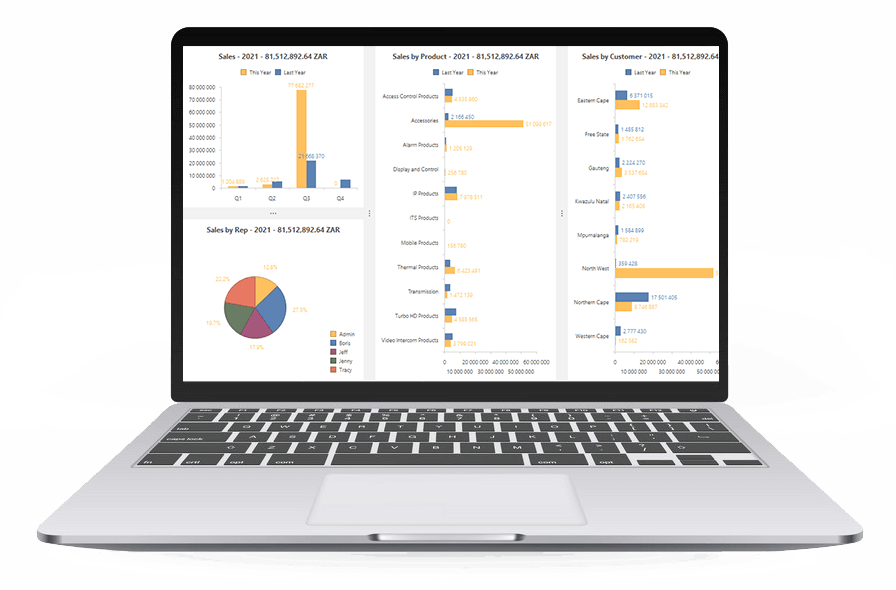 There are some ERP solutions that include a CRM component, but CRM software typically does not include ERP components.
Organisations that have complex operations are coming to the conclusion that they need a full-house, integrated, cloud-based ERP system to manage multiple factories, distribution centres, supply chains and currencies. They also need a full-fledged CRM system to take care of their sales, support and some of their marketing functions across various markets. What is the solution?
BOS Gives You Both ERP and CRM in One
With BOS ERP, you get robust ERP that is jam-packed with functionality, as well as full-house CRM capabilities, installed and supported locally, all at an affordable price.
With BOS ERP's powerful CRM functionality, you only need to maintain one set of customers, while still easily accessing stock levels, customer transactions and support tickets, all in one interface.
This means you can do all of these, from one unified platform:
| | |
| --- | --- |
| Manage sales | Distribution management |
| Streamline sales processes | Supply chain management |
| Automate customer service | Production management |
| Track customer interactions | Financial management |
| Store unlimited customer data | Business reports |
| Create data reports | Reduce redundant tasks |
| Schedule and follow up on leads | Improve efficiencies |